CATALÀ REINÓN created a department in 2010 dedicated to the services on bank claims in a specialized way. The situation arisen a few years ago as a direct consequence of the general economic crisis has transformed the banking sector which has been demanded to be more transparent in its dealings with consumers and to repair the damages caused by its abusive clauses. There are regulations that banking institutions must comply with but even so there are countless cases in which the consumer has had to bring the case to court so that financial institutions would recognize his or her rights and pay for the damages caused.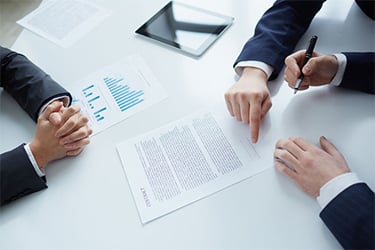 In Català Reinón you will feel protected and supported since the beginning of legal proceedings against the bank or in those to obtain an agreement that will be beneficial for the recovery of the amounts on Floor Clauses, IRPH Clauses, Clauses with reference in foreign currency or Clauses on expenses and commissions now declared illegal, null or void.
CATALÀ REINÓN'S FINANCE LAWYERS IN BARCELONA AND SABADELL
At Català Reinón Lawyers we have the best team of finance lawyers in Barcelona. If your rights are at risk, please contact us: we will address your issues with the utmost professionalism.
CATALÀ REINÓN'S FINANCE LAWYERS IN BARCELONA – FLOOR CLAUSES' ECONOMIC CONSEQUENCES
Banks' floor clauses exist from the relationship between the Euribor and the interest that must be paid to a bank when one requests a loan. The banks set price limits to prevent the loans' interests to match Euribor's. This led to a great price difference when Euribor was below the floor clause interest limit. The limits of these clauses ranged from 2 to 3 percent when this percentage was considered to be the average Euribor value. If you have been affected by this kind of clause, contact the team of finance lawyers at Català Reinón in Barcelona; we will study your case in detail and provide a quick and efficient solution.
CATALÀ REINÓN'S FINANCE LAWYERS IN BARCELONA – 
LEGAL MECHANISMS FOR ECONOMIC CLAIMS
If you are in this situation, you need legal advice to judicially claim damages. Català Reinón's finance lawyers in Barcelona will study your case so to achieve the best result for your case. Català Reinón's main objective is to achieve the solution that provides the greatest benefit for our clients. Contact our team of finance attorneys and we will conduct a full case study.
CATALÀ REINÓN'S FINANCE LAWYERS IN BARCELONA – CONSEQUENCES OF THE TJUE RULING
The judgment favours consumers and considers that, according to the European directive, these clauses are unfair to them: "The declaration of a term's unfairness must restore the situation in which the consumers would have found themselves in its absence". Those affected have the right to justice and to obtain the economic benefits that were denied to them due to the application of these clauses. If you find yourself in this situation, contact the team of finance lawyers at Català Reinón in Barcelona and we will help you with everything related to the claim process.
CATALÀ REINÓN'S FINANCE LAWYERS IN BARCELONA –  
THE ROLE OF FINANCE LAWYERS
One of the main problems affecting a large part of the population is the difficulty to pay mortgage payments. The team of finance lawyers of Català Reinón in Barcelona will defend your interests through mechanisms of equity, in the complicated economic situation that has affected society in the last years.
Our team of mortgage attorneys will offer you the possibility of requesting the dismissal of the foreclosure process. In addition you can claim back any overpayments to the bank, such as interest on the floor or default interest on the mortgage.
At Català Reinón we have a team of finance lawyers, experts in defending the rights of debtors who are unable to pay their mortgage payments. A high rate of case resolution that is satisfactory for the interests of our clients are proof of our firm's efficiency.
CATALÀ REINÓN'S FINANCE LAWYERS IN BARCELONA – 
CONTACT US
If you are in a similar situation, please contact our team of finance attorneys. You can find us in the centre of Barcelona; we have the best specialists in the sector who will solve any doubt or problem you may have.
The team of finance lawyers at Català Reinón in Barcelona will handle your case with the utmost dedication and confidentiality in order to look after your interests and achieve your best interests.
CATALÀ REINÓN'S FINANCE LAWYERS IN BARCELONA –
GRUND CLAUSES JUDGEMENT'S AMENDMENT
Judgment of the High court of Justice of 15 February 2017 in relation to floor clauses
The Civil Division of the High Court of Justice amended the legal doctrine of May 2013, which determined that banks shall return the amounts collected through floor clauses from that date on, and obliges banks to return all amounts collected through a retroactive clause, i.e. to return all amounts collected through such a clause and not only those collected since May 2013.
The High Court of Justice implements the ruling handed down last December 2016 by the European High Court of Justice, which considers that this type of clause has not been applied with complete transparency and therefore obliges Spanish financial institutions to repay in full the money they have received for its application.
In 2013 a judgment was passed against the BBVA bank and it was bound to return the floor clauses after May 2013. This ruling, which dictates that all money shall be returned to customers, opens a window to all the BBVA customers affected by this type of clause, who can now individually claim that they should not be subject to the 2013 limit and that the full amount paid for this type of clause should be returned.
An appeal was filed before the same Civil Chamber of the High Court of Justice by Caja Rural Teruel. In this case, it has rejected the claims of the clients, since it understands that there was negotiation of these clauses and therefore there was transparency.
CATALÀ REINÓN'S FINANCE LAWYERS IN BARCELONA –
WHO CAN TO CLAIM THE FLOOR CLAUSES?
Individuals or consumers who have not filed a lawsuit urging the judicial declaration of the nullity of the land clause for lack of transparency in their mortgage contracts, may claim the full refund of the fees charged by financial institutions through these clauses.