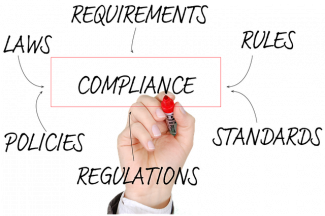 Possible crimes to prevent Compliance
Relation of the main crimes with direct connection with the regulatory compliance of a commercial company established in the arts. 31, 31bis.

In 2010, the criminal liability of legal persons was introduced for the first time in the Spanish Criminal Code. Indeed, legal persons and businesses can commit crimes. Consequently, they may be required to answer for these acts before the criminal court. The Criminal Code establishes a list of several crimes for which an enterprise can be convicted.
Article CP
Crime
 
Article CP
Crime
156 bis
 
 
304
Illegal financing of political parties
177 bis
Trafficking in human beings
 
305
Crimes against the Public Treasury
187
Prostitution - exploitation of minors - corruption of minors
 
307
Crimes against Social Security
197
Crimes against privacy and computer raid
 
311
Crimes against the rights of citizens
281
Shortage of raw materials
 
318
Crimes against foreign citizens
282
False advertising
 
319
Crimes against land use planning
283
Fraudulent Billing
 
325
Crimes against natural resources
286
AIllegal access to the broadcasting or television service
 
348
Risk of offenses caused by explosives
248
Fraud
 
359
Crimes with the public health medications
257
Punishable insolvency - lifting of assets -
 
362, 362 bis
Sport doping
259
Punishable insolvency - current or imminent insolvency -
 
363
Food crimes against public health
264
Computer damage
 
368
Crimes against health. Drugs, narcotic psychotropic substances
270
Crimes against intellectual property
 
386
False means of payment
273
Crimes against industria property
 
392
Documentary falsehood
278
Discovery and disclosure of company secrets
 
424
Bribery
286, 286 bis,
286 ter, 286
quater
Corruption in business
 
429
Influence peddling
301
Receiving. Money laundering
 
LO
Smuggling Crime
Fuente de la imagen: www.pixabay.com Xdfolio bajo la licencia Pixabay, imagen editada parcialmente, ver imagen original.