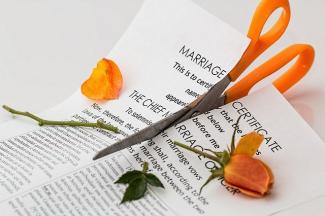 The divorce
The Civil Code, in its 1981 amendment, introduced the legal concept of divorce : when two persons united by marriage can end their relationship, dissolve the common economic society, and remarry whomever they wish.
Differences with marriage separation:
The divorce dissolves the marriage bond, so the spouses can get a new marriage.
It is not necessary to alleged any cause to request a divorce, simply to express the will to dissolve it.
In order to be able to divorce, it is necessary that three months have elapsed since the celebration of the marriage, unless the existence of a risk to life, physical integrity, freedom, moral integrity or sexual freedom and indemnity of the claimant spouse or the children of both or any of the members of the marriage (article 81 of the Civil Code).
Two types of divorces:
Divorce by mutual agreement: it previously requires a written agreement between the spouses, called the regulatory agreement, in which both express their desire to divorce and regulate all the consequences of divorce.
Contentious divorce: If there is no agreement by both spouses in the divorce application, either spouse may request from the Court to initiate a divorce proceeding that finally ends with the declaration of the same and therefore the dissolution of the marriage
Fuente de la imagen: www.pixabay.com Stevepb bajo la licencia Pixabay, imagen editada parcialmente, ver imagen original.